Do you regularly use Stripe for all of your business payments?
You can now create Stripe account without giving out your personal phone number. Yes, you heard it right. 
Complete Stripe Account Verification using disposal or temporary Non-VoIP number in just a few clicks. Continue reading this blog to find out how to make a Stripe account without using your personal number. 
Before we jump on to getting a Stripe account activation, let's first understand more about Stripe and the importance of the SMS verification code and getting it without using a personal phone number for security and privacy concerns. 
What is Stripe, its Users, and Global Availability?
Stripe's software and APIs are widely used to accept payments, send payouts, and manage their business online. Stripe's products power payments for online and in-person retailers, subscription businesses, software platforms, marketplaces, and everything in between. 
With Strip, businesses can build websites and apps that accept payments and send payouts globally. In short, Strip is a one-stop for businesses to manage their payments and online operations. 
Stripe is a leading payment processing platform used by millions of businesses around the world. According to Finmaster, In 2021, Stripe processed $640 billion in payment volume, making it one of the largest payment processors in the world. Stripe is used by businesses in 47 countries and is valued at $95 billion. In 2021, Stripe reached $12 billion in gross revenue, showing a 62.2% annual increase. More than 50 customers process over $1 billion each per year on Stripe.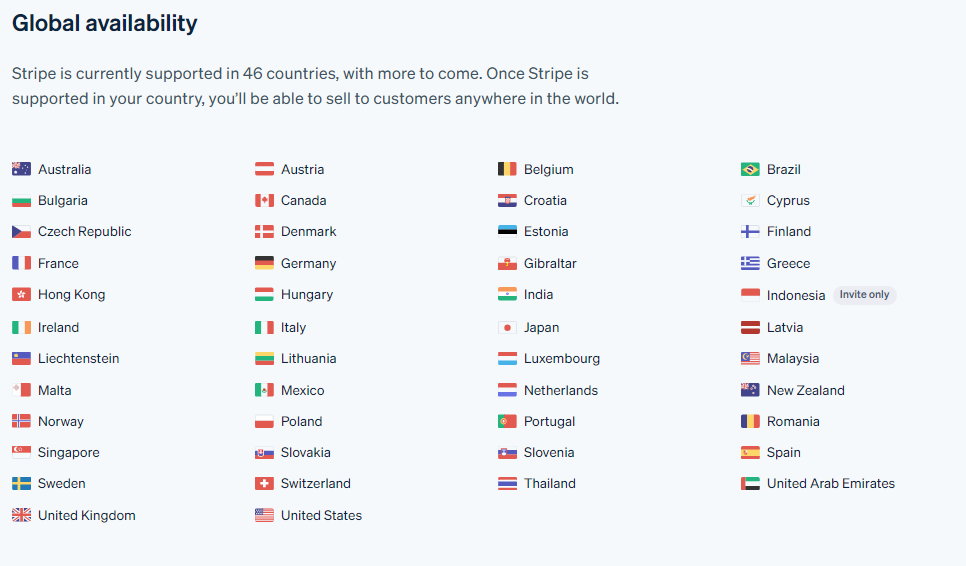 Problems While Creating a Stripe Account and Its Verification
Creating a Stripe account should be a straightforward process, but users often encounter challenges along the way. Here are some common problems faced during Stripe account creation:
Verification Hurdles: Stripe requires users to verify their identity to ensure the security of financial transactions. This verification process typically includes providing personal information, bank details, and, most notably, a phone number for authentication.
Phone Number Dependency: Many users find it inconvenient or risky to provide their personal phone numbers during the account creation process. Some individuals may not want to share their numbers due to privacy concerns.
Geographical Restrictions: Stripe's availability can vary from one region to another. Some users may face difficulties in creating an account due to geographical restrictions imposed by Stripe.
Ways to Create Stripe Account Without Using a Phone Number
Fortunately, there is a solution for those who want to create Stripe account without sharing their personal phone numbers. By using temporary non-VOIP (Voice Over Internet Protocol) numbers, users can maintain their privacy and still access the benefits of Stripe's payment processing capabilities.
1. Choose a Reliable Temporary Non-VoIP Number Service Provider: 
Search for a reputable temporary number service that provides non-VOIP numbers. These services often offer numbers from various countries to suit your needs.
2. Sign Up for the Temporary Number: 
Create Stripe account with the chosen temporary number service. This typically requires minimal personal information and is designed to protect your privacy.
3. Verify Your Temporary Number: 
Once you have a temporary number, use it to initiate the Stripe account creation process. Stripe will send a verification code to this number, which you can access through the temporary number service's interface.
4. Complete the Stripe Registration: 
Enter the verification code received on your temporary number into the Stripe registration form. Follow the remaining steps to provide necessary business information and banking details.
5. Enjoy the Benefits
:
Congratulations! You now have a Stripe account without compromising your personal phone number's privacy.
Benefits of Verifying Stripe Account with Virtual Numbers
Using temporary non-VOIP numbers to create and verify your Stripe account offers several advantages:
Privacy Protection: By using a temporary number, you keep your personal phone number confidential, reducing the risk of spam calls or unwanted communication.
International Accessibility: Temporary number services often provide numbers from various countries, enabling businesses to access Stripe's services even if they are not available in their region.
Security: Stripe's verification process is crucial for ensuring secure financial transactions. By using a verified temporary number, you maintain security standards while safeguarding your privacy.
Business Continuity: In case you need to change or update your phone number later on, you won't have to go through the hassle of updating it across various platforms. Your Stripe account remains unaffected.
Global Expansion: If you're a business looking to expand globally, having access to virtual numbers allows you to enter new markets seamlessly, as you can verify your Stripe account in different regions.
In conclusion, creating a Stripe account is a vital step for businesses seeking efficient online payment solutions. While the verification process may pose challenges, using temporary non-VOIP numbers provides a convenient and secure way to access Stripe's services without compromising privacy. By leveraging these virtual numbers, businesses can enjoy the benefits of Stripe's global payment processing capabilities while maintaining control over their personal information. 
So, if you're looking to create Stripe account for your business, consider the options available and choose the one that best aligns with your needs and preferences.